General Electric Company (GE for short) is the world's leading digital industrial company with more than 125 years history.In many fields,today's GE still stay forfront thanks to its constant innovation.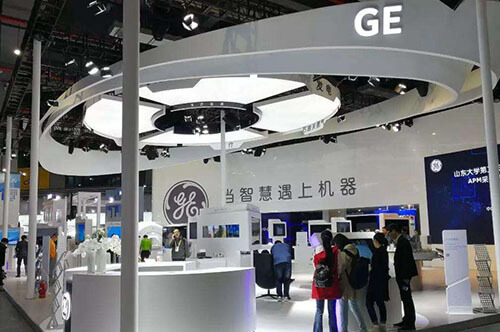 In the beginning of 2018,GE announced the decision to attend 1st CIIE (China International Import Expo),held from 5th-10th,Nov,2018 at National Exhibition and Convention Center (Shanghai).
China has become the world's second largest economy.Now China is holding this special trade event with grand scale and rich and accurate supporting activities.GE aims to take this chance to communicate with potential potential Chinese clients make business cooperation with China.Meanwhile GE is also looking forward to import more products,technology to China.
Being an exhibitor at CIIE,"When Minds Meet Machines" is their theme in this expo.They will showcase digital solutions and products across the power, aviation, renewable energy, oil and gas, healthcare, and technology advanced manufacturing sectors.
Facts prove that this is a successful exhibition for GE after 5 days show with many deals.For example Caojing power (Shanghai Electric Power Co.,Ltd) purchased 9F gas turbine components, modifications and services which will help further tap the value potential of existing power assets and improve the safety, availability and economy of owner units.
Besides Gas turbine field,there are also many other deals,such as China Huadian Corporation Ltd made the purchase from GE,Hainan airlines signed two purchase memorandum for two engines,etc.
As a global pioneer of overall solution in diesel system,China Balin Power Co.,Ltd wish China set an example for those countries with trade protectionism.Some day there will be more professional import expo coming after CIIE.Then every business entity participating in the global market could enjoy and share the benefits from open market and free trade.In locomotive field,China Balin Power Co.,Ltd will definitely showcase GE products,like
GE Injector 123x1110-2
,
GE Nozzle 123x1098
/ 123x1009 / 123x1052,etc.We believe that day will not be too far.